Damon
BENEFITS OF CONSUMING
CBD INFUSED FOOD & DRINKS:
TOP CBD RECIPES TO TRY
Cannabidiol (CBD) is slowly gaining popularity around the world due to its numerous benefits. CBD oil is used to make various CBD-infused foods, drinks, and snacks. But why add CBD to food? Below is an overview of the benefits of consuming CBD-containing foods and a few simple CBD recipes to try.
Advantages of Consuming CBD-Infused Foods and Drinks
Managing Pain and Inflammation
CBD is renowned for its non-psychoactive anti-inflammatory and pain-relieving features. The consumption of CBD-infused foods can give relief to people living with chronic pain in their joints, nerves, or muscles. Incorporating CBD into specific foods also helps manage sciatica, lower back pain, multiple sclerosis, fibromyalgia, and arthritis.
The body's digestive system absorbs CBD from the food into the blood. CBD stimulates the receptors of the endocannabinoid system to achieve long-lasting anti-inflammatory and pain-relieving effects.
Easy to Determine the Dosages
It can be difficult to accurately determine how much CBD gets inhaled during smoking or vaping. Some users may end up taking more than the recommended dose, while others might consume too little to get the desired results. Most CBD oil-infused recipes have specific measurements that indicate the amounts of CBD present. Users can thus consume CBD-containing foods at the proper doses to enjoy appropriate effects.
Reducing Anxiety and Regulating Mood
Poor management of stress may cause anxiety and be harmful to overall health. Infusing CBD into food recipes helps stimulate the endocannabinoid system. The effect is an increase in serotonin levels that plays a key role in balancing emotions. Consuming CBD in foods and drinks like brownies, chocolates, cocktails, and coffee is an excellent way to reduce anxiety and regulate mood.
Improving Sleep
A natural remedy for people with insomnia is using CBD food recipes to prepare a pre-bedtime snack. Consuming CBD-containing dishes after a long and stressful day helps relieve anxiety and promotes better sleep. Instead of going for over-the-counter sleeping pills, whip up a meal by following straightforward CBD food recipes. 
Providing an Antioxidant
Adding CBD to a regular diet provides a great source of natural antioxidants. Antioxidants play an essential role in protecting the body's cells against free radicals and oxidative stress damage. As antioxidants, CBD-infused meals also help prevent digestive, kidney, and cardiovascular disease.   
Easy CBD Recipes
Follow these simple CBD-infused food recipes and CBD wellness drink recipes to create delicious breakfast, dinners, desserts, and cocktails. 
CBD Recipes for Breakfast
An excellent way to start difficult mornings and boost energy levels is with a CBD-infused breakfast.
CBD Avocado Toast
Serves 1
To fill an empty stomach in the morning, a healthy and trendy breakfast option that's easy to prepare is CBD avocado toast. Avocado is one of the great foods to add CBD to since the oil easily blends with its fat-rich content. The CBD food recipe for this dish is quite simple as all that's needed is:
1 avocado

2 slices of bread, toasted

2 eggs

Small squeeze fresh lemon juice

Salt and pepper

1.0 mL of CBD oil (1 full dropper of Muscle MX Natural Flavor CBD Drops)
Drizzle of olive oil
Pepitas or fresh tomato, optional
Prepare the eggs to your liking. Mash the avocado in a bowl, add a squeeze of fresh lemon juice, salt and pepper to taste, then add CBD oil and mix. Spread the mashed avocado mix onto the toasted bread, top with the prepared eggs. Add pepitas or fresh tomato if desired, and enjoy!
CBD Instant Coffee
Makes 1 cup
Begin the day with a warm and tasty cup of coffee by following this simple CBD-infused drink recipe. The key ingredients include:
To prepare the perfect cup of coffee, combine the CBD oil and milk over low heat. Once milk is warm, add the CBD oil. Put the instant coffee into a coffee cup, add the warm milk-CBD combination and sugar if desired. Stir and enjoy! 
CBD Food Recipe for a CBD-Infused Dinner
Eating dinners infused with CBD allows for a relaxing meal after a long and busy day.
Tangy CBD Tilapia
Serves 2-4
Follow this simple fish CBD-infused food recipe to cook a tasty dinner. Start by gathering:
3-4 tilapia fillets

2 tablespoons butter, melted 

1.0 mL to 2.0 mL of CBD oil as desired (1 to 2 full droppers of

 Muscle MX Natural Flavor CBD Drops)

3 tablespoons fresh lemon juice

1 clove garlic

Salt and pepper

1 teaspoon dried parsley
Preheat the oven to 375 degrees Fahrenheit and add non-stick cooking spray to a 9×13 baking dish. After washing the tilapia fillets in cold water and drying with paper towels, place them in the baking dish. Pour lemon juice over the fillets. Sprinkle pepper, salt, garlic, and parsley over the fillets. Bake for 30 minutes. While fillets are baking, mix the melted butter and CBD oil together. Remove dish from oven, pour the butter-CBD oil mixture over the fillets. Place the dish back into the oven for 2 minutes. Remove from oven and serve while warm.
CBD Infused Beverages
CBD-infused drink recipes allow one to create cocktails and enjoy the soothing benefits of cannabidiol. Following CBD oil drink recipes results in healthy, non-threatening, versatile, and impressive cocktails.
CBD Mint Julep
Makes 1 cocktail
A mint julep is an excellent choice for trying out CBD infusions. It blends with the herbaceous flavors instead of masking them. Start by collecting:
2 ounces of bourbon

5-10 mint leaves, plus more for garnish if desired

1/2 ounce of simple syrup

1.0 mL of CBD oil (1 full dropper of

Muscle MX Natural Flavor CBD Drops)

Crushed ice
Place the mint leaves, simple syrup, and CBD oil into a glass. Muddle well. Add the bourbon. Fill the glass with crushed ice and stir well.. Garnish with a sprig of mint if desired, and enjoy!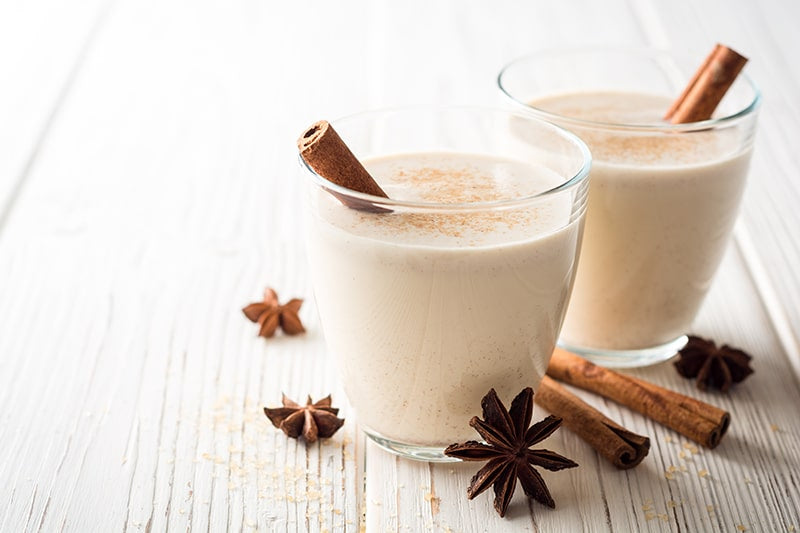 Check out this easy vegan CBD eggnog recipe.
CBD Infused Vegan Eggnog
Makes 2 servings
Start by gathering
2 cups of fresh hazelnut milk

½ cup of coconut meat

2 tablespoons of chia seeds

1 tablespoon of vanilla extract

A pinch of cinnamon

1.0 mL of CBD oil (1 full dropper of Muscle MX Coffee Flavor CBD Drops)
2 cinnamon sticks for garnish, optional
Grated nutmeg for garnish, optional
Place all ingredients into a blender except the cinnamon stick and the grated nutmeg. Blend the ingredients until creamy and smooth. Give 15-20 seconds for the coconut to get extra creamy and the chia seeds to break down completely. Pour into 2 glasses. Garnish with grated nutmeg and a cinnamon stick, if desired. Enjoy!
Choose Muscle MX
Looking for products to help facilitate a CBD diet? Muscle MX has CBD-infused treats like CBD gummies, CBD oils, and other products for preparing CBD recipes. Muscle MX also has Natural Full Spectrum CBD Oil Drops (1000mg) in natural, berry, and coffee flavors for CBD-infused foods and drinks. Starting a CBD-infused diet can result in positive health benefits while being delicious and enjoyable, too.
Citations 
https://www.ncbi.nlm.nih.gov/pmc/articles/PMC6781714/