Damon
CBD Infused Drinks:
How To Add CBD
to Your Favorite Beverages
CBD Infused Drinks: How To Add CBD to Your Favorite Beverages
In the last few years, CBD-infused drinks have become one of the most popular ways of taking CBD or cannabidiol. CBD is a compound that's found naturally in the cannabis plant. It interacts with many other compounds to deliver beneficial effects, such as reduced inflammation and stress. This article will teach you how CBD-infused drinks are made, their health benefits, and some CBD-infused drink recipes.
How Are CBD-Infused Drinks Made?
CBD-infused drinks are easily made by adding CBD oil to the beverage of your choice. You can find CBD oil in a capsule, gummy, or tincture. For simplicity's sake, it's best to use a CBD tincture because it's easier to mix. The type of tincture you choose depends on your preferences and what's available to you. 
There are broad-spectrum and full-spectrum CBD tinctures. Broad-spectrum tinctures contain nearly all of the compounds found in the cannabis plant, except THC (tetrahydrocannabinol). This type of tincture is preferable for those who want to completely avoid THC, which is the cannabinoid responsible for the "high" feeling. 
Full-spectrum tinctures, on the other hand, do contain a small amount of THC, but no more than 0.3%. Full-spectrum CBD is nonaddictive, nonintoxicating, and thought to be more effective because it's been theorized that THC and CBD work better together than when taken separately.  
CBD tinctures typically come in a small bottle with a dropper. To extract the oil, fill the dropper by squeezing it and measure one serving. You can increase the dosage gradually if needed, but see how you feel for the first 30 days. Be as consistent as you can since regularity delivers the best results. 
The Perfect Drink Recipes for Your Next CBD Beverage
There are many options for creating CBD-infused drinks, including tea, cider, coffee, cocktails, spritzers, and water. Crafting the perfect drink can be a bit of an art, but these delicious recipes will guide you on how to make CBD-infused drinks you won't want to put down.
1. Take the Edge Off With a CBD Cocktail
Refresh yourself after a busy day by following this CBD-infused mojito recipe.
Makes One Serving
Ingredients:
Rum (preferably white rum)

2 fresh mint leaves

Fresh lime juice

Simple syrup

Club soda

Ice

1.0 mL of CBD oil (1 full dropper of

Muscle MX Natural Flavor CBD Drops

)
What you'll need:
A tall glass (such as a highball or Collins glass)

A cocktail muddler or a wooden spoon

Hawthorne strainer or slotted spoon

A shaker
To make this drink, add the mint leaves and simple syrup into your shaker and muddle the leaves gently to release their flavor. After that, add rum, fresh lime juice, CBD oil, and ice to the shaker. Cover the shaker and shake the contents for about 30 seconds, then strain the drink into your glass using a Hawthorne strainer or slotted spoon. Finish the drink with club soda and add more mint to garnish, if you like. 
You can also try making other alcoholic CBD drinks, such as a CBD-infused Manhattan or a CBD-infused daiquiri. Get as creative as you want!
2. Mix a Healthy CBD Smoothie After a Tough Workout
After a hard workout, there's nothing better than a sweet and nutritious smoothie. Try this strawberry peach smoothie the next time you come home from the gym.
Makes One Serving
Ingredients:
1 cup of frozen peach slices/cubes

1/2 cup of fresh or frozen strawberries

1/2 cup of full-fat vanilla Greek yogurt

1 teaspoon of honey

1.0 mL of CBD oil (1 full dropper of

Muscle MX Berry Flavor CBD Drops

)

Milk or water

Optional: coconut shavings for garnish
What you'll need:
The preparation for this CBD-infused drink is quite simple. Add all the ingredients into your blender and blend for about 30 seconds until you've reached a nice consistency. Then pour into a glass and add coconut shavings on top for an aesthetic touch.
Feel free to use CBD oil in some other CBD-infused drink recipes. For example, a green or a different fruit smoothie could also be tasty.
3. Try CBD-Infused Water for a Refreshing Drink
If you're home on a hot summer day, try refreshing yourself with this CBD-infused lemon water recipe.
Makes One to Two Servings
Ingredients:
What you'll need:
To make this CBD drink, cut the lemons into thin slices and add them to your pitcher with a few sprigs of mint or basil. Then fill the pitcher with about 1 L of still water and put it in the fridge for at least an hour. Before serving, add ice and some sparkling water for added zest. Garnish with a lemon slice.
Try making other CBD-infused waters using different combinations of fruit and herbs!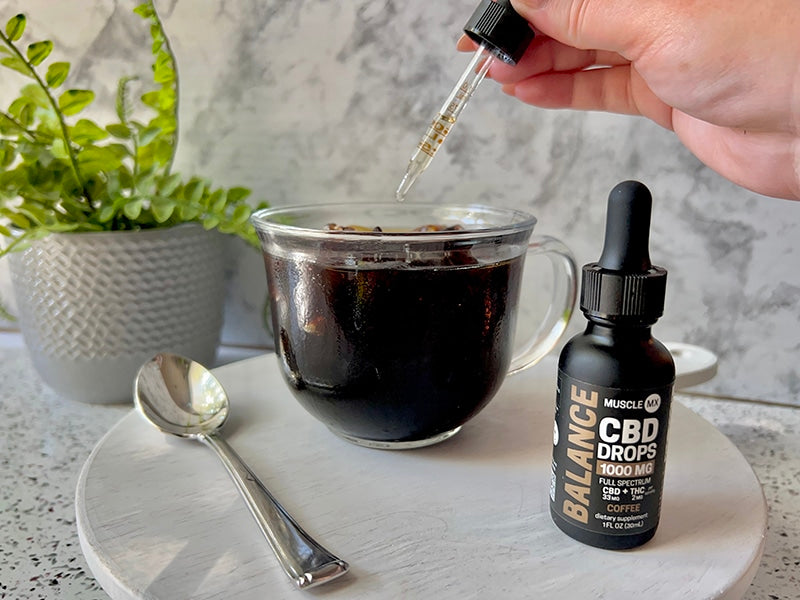 4. Remove Some of Those Java Jitters With a CBD Coffee
If you're a mocha fan, this CBD-infused mocha iced coffee is right up your alley. 
Makes One Serving
Ingredients:
What you'll need:
Before making this drink, it's best to chill your strongly brewed coffee beforehand to ensure it doesn't melt the ice immediately. Add your chilled coffee into a shaker and then add CBD oil, milk or plant-based milk, chocolate syrup, and ice. Shake the contents well, pour into a glass, and serve. 
You can also make other CBD-infused coffee drinks, such as CBD lattes, Americanos, frappuccinos, cappuccinos, etc.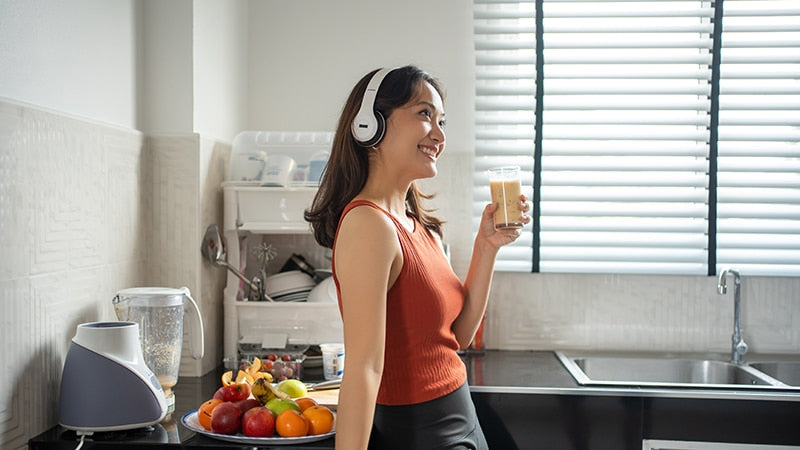 Experience the Beneficial Qualities and Distinct Flavors of a CBD Drink
Incorporating CBD drinks into your everyday routine can be an enjoyable way to relieve work-related stress and chronic pain. It can also be an opportunity to increase your knowledge of mixology and cultivate a fun habit.
Muscle MX is here to support you as you begin your CBD journey. Muscle MX creates CBD-infused products, such as gummies, balms, and lotions, as well as CBD drops that are perfect for adding CBD to your drinks or food. 
Check out Muscle MX's CBD drops and get crafting delicious and relaxing drinks!  
CBD Infused Drink Inspiration
We've partnered with Shantelle, @she_thebartender, for even more tasty beverage options! Shantelle is a UT-based master mixologist that specializes in no, low, and full ABV cocktail recipes you can make at home. Learn everything you need to know about mocktails and cocktails by taking one of her monthly cocktail classes online, and learn some of her tasty cocktail recipes on her TikTok channel. Check out our partnership below on how to make a delicious vanilla tea hot toddy, espresso martini, and mocktail strawberry gingerade using Muscle MX Drops.
See more of Shantelle's creative cocktails and mocktails below.