Damon
Combining CBD with Other Supplements
The CBD industry has been booming for about a decade now, and it's transformed from a small, niche market to an enormously successful branch of the wellness and health industry as a whole.  What once started out as a largely misunderstood product practically demonized for its association with marijuana has become a mainstay that's even encouraged by leading doctors.  
If you've been following CBD for a while, then you've surely noticed how even hemp products have evolved in such a short period of time.  Once upon a time, our options were limited to gummies, tinctures and maybe another delivery method here and there.  But now, as CBD is taken more seriously and as technology and science continue to evolve, we have more options than ever before.
A growing number of hemp enthusiasts are combining CBD with daily supplements in various ways, thanks to growing research suggesting that CBD can support supplements that many of us incorporate into our daily wellness routine.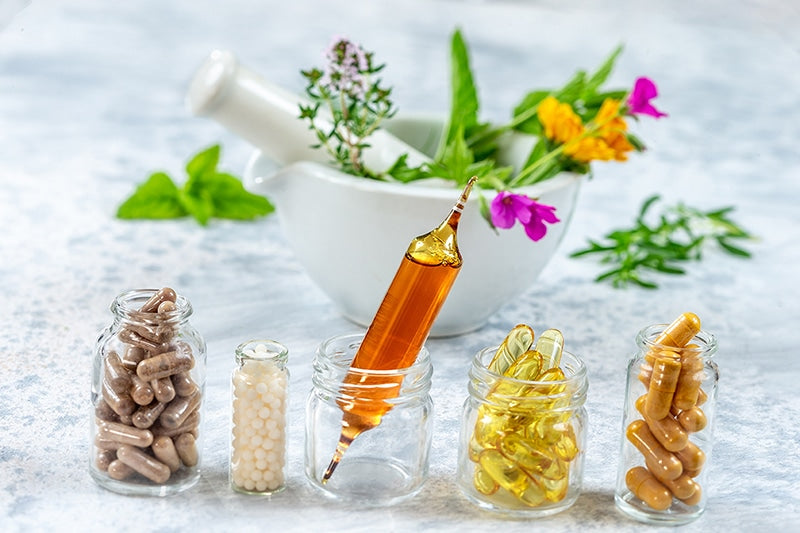 Giving CBD the Legitimacy that it Deserves
If there's one thing that the CBD industry needed in its early years, it was legitimacy.  For too long, CBD was mistakenly viewed as another marijuana derivative, thus turning off a large portion of potential customers who simply didn't know that CBD products come from the hemp plant, which is naturally non-psychoactive.
Nowadays, however, many people view CBD as an extension of their daily supplement routine.  There are a few reasons for this.  One is that CBD supports the body's homeostasis-managing endocannabinoid system, which uses cannabinoid receptors throughout the body to trigger regulatory actions that work toward general well-being.  Many nutrients that we consume through supplements work in a similar manner, meaning that they don't force actions to occur within the system, but simply support the body's natural ability to do so.
Of course, we also have access to a massive array of groundbreaking studies referencing CBD's unique effects, which has shown us just how useful the compounds in the hemp plant can actually be for a wide range of people in need of relief.  The biggest advancement of all was the development of CBD capsules, which can be taken just like daily supplements, while offering a full day's worth of high-quality hemp extract.
Popular Supplements Combined with CBD
Maybe you've already come across unique CBD products that combine popular supplements with hemp.  One extremely popular option is the combination of CBD with ashwagandha.  Several compounds present in ashwagandha may be responsible for its sleep-promoting effects. Researchers have proposed that the triethylene glycol naturally present in the herb may bring on sleepiness. Ashwagandha is ideal due to how natural and gentle it can be compared to prescription sleep medications.  We also know that CBD has a regulatory effect on neurotransmitters, so combining the two together to create a sleep aid is something that we see frequently throughout the industry. Muscle MX Relax drops are made with the perfect blend of CBD, CBN and ashwagandha. The powerful combo creates an effective sleep-aid.
There are also cannabinoid receptors in the immune system, so it's not surprising that we're starting to see a lot of supplements that combine CBD with known immune enhancers like vitamin c and zinc for enhanced immunity.  Then, there are energy-boosting options that combine CBD with caffeine because of the unique synergistic effects that take place when these two substances are taken at once.
Furthermore, a vast majority of companies are developing multivitamins that contain hemp extract.  Some plant-derived nutrients may be boosted in bioavailability by the presence of the cannabinoids and flavonoids in the hemp plant, making this combination particularly useful.  
Of course, you don't have to take a CBD product that comes in capsule form and contains other nutrients or supplements in order to experience these types of effects.  You can simply incorporate any CBD product into your daily routine, while also maintaining your daily supplement regimen, as long as they are taken at relatively the same time.
Taking CBD with Supplements: What to Know
If you're interested in using CBD along with your supplements, let's provide some tips that will help you come up with the perfect routine.
Tip #1: Consider Speaking to Your Doctor
It's always a good idea to speak with your doctor before taking CBD, supplements or anything else intended to produce effects on your health.  Your doctor may have experience with CBD which can help you come up with a more effective routine based on your medical history and any medications you may be on presently.
Tip #2: Do Some Research
There is a lot of research out there on what CBD can do, and how it may be combined with certain supplements to achieve specific goals.  We recommend that you take the time to do some research so that when the time comes to start your routine, you can make the best purchases for the goals that you have in mind.
Tip #3: Make Sure the Company and Product are Legit
Always do some research on a CBD company before buying their products.  Make sure that they have positive reviews, and also ensure that they provide third-party lab reports that come from an unbiased testing facility.  This way, you'll know that the CBD that you're getting is the real deal and is of a high quality so that it can give you the results that you want.
Tip #4: Be Consistent for the Best Results
It's suggested that you take both supplements and CBD daily to properly support the body's various systems.  Consistency is key when it comes to CBD.
Tip #5: Proper Milligram Strength
CBD comes in a variety of milligram strengths, and everyone has their own ideal potency level depending on their needs.  Consider what that potency level is for you.
Final Thoughts
As you can see, combining CBD with your daily dose of supplements can be a great idea if your goal is to maintain maximum wellness.  In order to do it properly, you'll need to follow this guide, which will walk you through the steps of crafting the perfect daily regimen.  However, once again, talk with your doctor first.
Sources: Ashwagandha for Sleep : https://www.sleepfoundation.org/natural-sleep-aids/ashwagandha
25% OFF Relax CBD Drops
use code relax25 at checkout
*Offer cannot be combined with other deals.