Damon
How CBD and Meditation
Work Together
How CBD and Meditation Work Together
Learning to cope responsibly with stress and anxiety is difficult but necessary for improving physical and mental health. Unfortunately, many people put this off without exploring tangible treatments, accepting the effects of stress as predetermined. While discovering your body's preferred method of alleviation is a journey, many scientifically tested practices are great places to start. 
Cannabidiol (CBD) and meditation are two methods that work symbiotically to reduce stress and trigger relaxation responses. Rooted in ancient and modern sciences, cannabis and meditation work as standalone methods but, when combined, may exponentially reduce stress symptoms. 
The Benefits of a CBD and Meditation Routine
Implementing CBD meditation into your day-to-day life can yield outstanding health benefits. CBD — an essential active ingredient found in the cannabis plant — is still in its early stages of clinical analysis. However, research offers more than simply anecdotal evidence. Studies support claims that CBD can decrease social anxiety, increase focus, and help treat certain neurological disorders and chronic pains. And mindful meditation has a long clinical history of helping combat mental illness, substance abuse, and unmanageable stress.  
Since both CBD and meditation treat similar ailments, many wellness experts and doctors encourage those searching for natural remedies to try them together. 
It's important to note that CBD is unlike THC (tetrahydrocannabinol) because it does not cause a high. Therefore, CBD carries no known risk of addiction. Instead, the trouble often comes in finding effective products with enough CBD potency to deliver an accurate result. Muscle MX offers some of the market's top CBD remedies, all of which have carefully balanced ingredient ratios, making them great for combining with meditation practice.
Decreases Stress
Physical manifestations of stress indicate your body is overproducing stress hormones, such as adrenaline or cortisol. When you're body reaches this state, focusing is difficult, irritability increases, and feelings of nervousness abound. The body requires rhythmic breathing and a lower heart rate to reverse the adverse effects of stress hormones.
Mindfulness and meditation are practices commonly used and proven to eliminate stress. Likewise, CBD displays extraordinary potential as a method for stress management. Research even suggests that CBD activates the parasympathetic system, releasing a chemical called anandamide. Anandamide acts as a balance to adrenaline, which helps shift the physical body out of fight or flight mode, and reduces overall stress levels and blood pressure. 
As a result, CBD and meditation are often seen as compatible practices to help temper chronic stress. 
Increases Concentration 
Sometimes, the nervous system goes into overtime, which isn't always good. An overactive nervous system hinders focus and keeps the mind preoccupied with random thoughts and worries. 
Meditation helps rein in both the mind and body, bringing them back to a relaxed state and reducing hyperactivity. Likewise, CBD increases your ability to focus by regulating GABA receptors, which calms the nervous system. 
Reduces Soreness in Tense Muscles
Meditation is, in large part, dedicating time to being aware of life's essential functions. For example, mindfulness of one's breathing, heart rate, and bodily discomfort helps reduce tension by understanding where the pain originates. To further pinpoint and reduce muscle soreness, many include stretches in their meditation experience. 
CBD adds to the benefits of meditation because of its natural anti-inflammatory properties. By reducing the inflammatory response, CBD expands the body's range of motion during stretching exercises and can even help reduce chronic joint and muscle pain. 
Provides Calming Effects
While cannabis and meditation can reverse adverse bodily functions — like stress hormones, mental overactivity, and inflammation — they also can initiate positive effects. For example, CBD meditation helps the brain achieve a healthier serotonin balance, leading to more stable and frequent feelings of calm.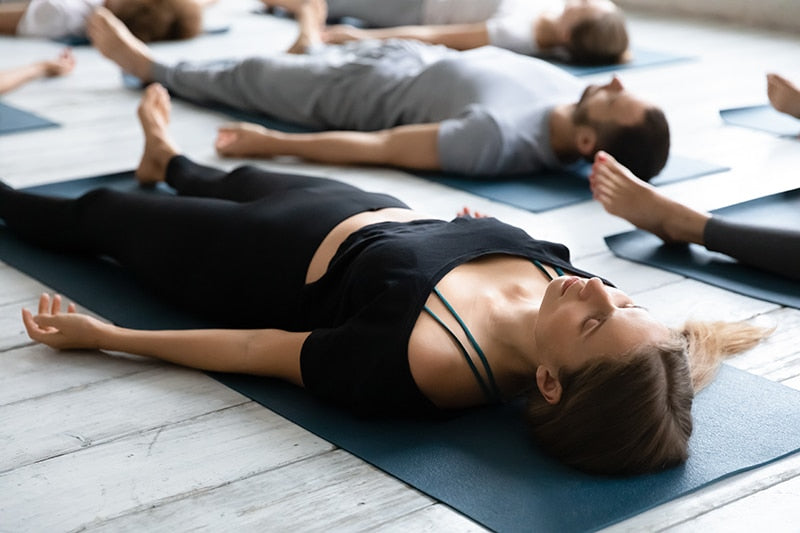 How To Use CBD for a Meditation Session
There is no singular way of incorporating CBD supplements into meditation exercises. Instead, it's a matter of preference. There is a wide range of CBD consumption methods, and understanding which is most effective requires users to test all options to find what works best.
After zeroing in on a method, it's essential to use CBD at its peak effect to enhance meditation practice. Lining up CBD and meditation is key to increasing their benefits and figuring out which form best suits you. 
Choose Oral or Topical CBD
Orally administered methods are the fastest-acting method of CBD consumption; of these, edible oils are the most popular form. You place them under the tongue with a dropper and let the oil sit for about one minute as it works into the bloodstream. 
If you prefer to mask the flavor, you can add the oil to your morning coffee, tea, shake, or meal. If you'd rather avoid oils altogether, there are other options, like edible gummies, vape pens, and capsules. 
Non-edible options are also common. For example, you can use topical CBD ointments, creams, and lotions to treat joint and muscle pain by directly rubbing them onto inflamed joints or muscles. 
When choosing, remember that oral CBD treatment provides more general bodily support, whereas topical CBD options mainly work as an anti-inflammatory agent. It's wise to experiment with multiple methods and compare results to determine what works best, as everyone's body reacts differently to CBD. 
Learn the Period of Time it Takes for Effectiveness
Just as CBD affects individuals differently, the amount of time CBD takes to begin showing effects also varies. Some bodies take longer to adapt to the chemical, whereas others might experience more immediate effects.
It's also critical to understand that certain forms of CBD kick in later than others. For example, edible oils are fast-acting, and some people may feel them working after just a few minutes. Other forms, like edible gummies, have slower-acting effects. 
Whatever the method, patience is critical, as is staying in tune with your body by keeping track of how you feel and analyzing patterns. Meditation is essential because it provides a daily routine to connect with your body and mind. 
Are You Ready for an Exceptional Meditation Experience With CBD?
People who try cannabis meditation often encounter great results. Anyone who has explored the benefits of meditation and CBD separately should consider combining the two for enhanced effects. 
If you've read this and want to introduce CBD meditation to your daily regimen, try our Muscle MX's CBD Relax Drops and start your journey to a healthier and more mindful lifestyle.