Damon
Top 5 Ways for Managing Holiday
Stress and Anxiety
The holidays are a time for joy and celebration, but this time of year can also be remarkably stressful. In fact, 38% of Americans say that their stress levels increase during the holiday season. Most people become busy with endless holiday responsibilities and it can all get overwhelming. 
How can someone reduce their stress and boost their mental well-being during this time of year? What are some long-term strategies to feel better and what can someone do to calm their nerves in moments of stress? 
Below are some common reasons why the festive season can be overwhelming, along with five of the best tips for managing holiday stress.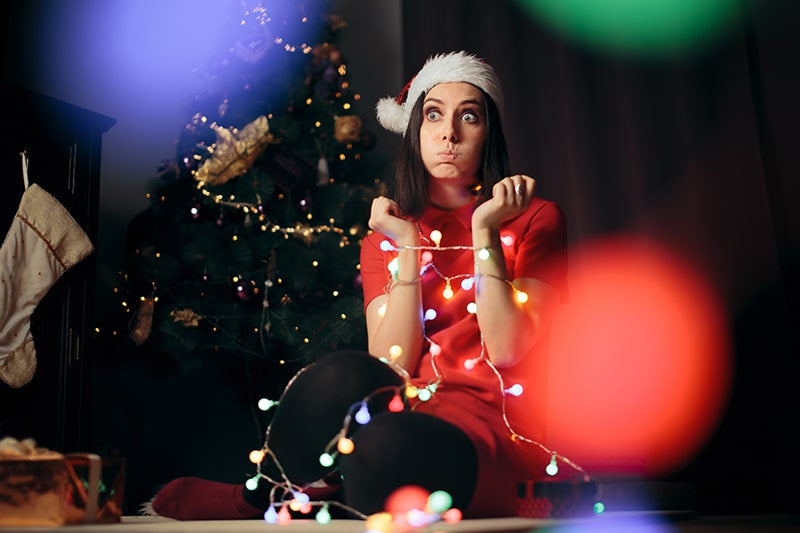 What Causes Stress During the Holidays?
Here are some of the most common sources of holiday stress.
Too Many Commitments
Most people look forward to reconnecting with loved ones during the holiday season. But too much togetherness can be stressful — especially if someone already has a pile of other commitments they must handle at the same time.
With every family gathering, one has to consider gifts, travel, and how they will schedule their other holiday plans around it. Beyond that, some people also experience mental burnout after long periods of socializing. These factors combined can lead to high levels of anxiety when a person commits to too many holiday events.
High Expectations
Christmas is so stressful for some people because they put enormous amounts of pressure on themselves to get everything done — and do so perfectly.
Whether it's picking out the perfect gifts, choosing a stunning outfit, or keeping the house in pristine condition for a party, pressure can feel like it's coming from all angles during the holidays.
Financial Pressures
As most people know, financial worries can affect anyone during the holiday season — especially if they haven't planned a budget for their gift shopping. A survey from 2019 found that 60% of Americans consider holiday gift-buying to be the most financially stressful time of the year, even above tax season. 
Missing Out on a Healthy Diet, Sleep, and Exercise
Jam-packed schedules during the holidays mean there isn't always time for a person to get adequate sleep, exercise, and nutrition. For those who rely on their routine to support their mental health, missing out on these healthy habits can be detrimental. 
5 Tips for Managing Stress During the Holidays
Here are some of the best holiday stress management tips for those who feel like Christmas is too stressful.
1. Stay Realistic and Embrace Imperfection
People commonly feel overwhelmed during the holiday season because they strive for perfection. They put superhuman pressure on themselves to attend every family gathering, buy the perfect gifts, and present themselves in an ideal way. 
However, instead of putting so much pressure on oneself, it's best to embrace imperfection and remember that it's okay if everything doesn't go as planned. Most people are simply happy to spend quality time with their family members during the holiday season. They normally aren't worried about the insignificant details that people so often stress themselves out over.
2. Make Time to Laugh
Although holidays are a time for celebrating, never-ending to-do lists make it easy to miss out on humor. But it's important to make laughter a priority during the holidays, as science shows that it's beneficial for reducing stress. 
Someone can promote laughter by watching comedy specials with family or playing funny card games as part of holiday stress management. Stress is best reduced with positive emotions — and humor is one of the best ways to get there.
3. Stick to Healthy Habits
A person's healthy habits can be what makes or breaks their mental well-being during the holiday season. If possible, one should always remember to exercise regularly, get a healthy dose of fruits and vegetables every day, and prioritize getting enough sleep.
While these habits seem like no-brainers, the bustle of the holiday season can make it challenging to stick to a schedule. But prioritizing these small habits can make a world of difference in creating a calm, relaxed state of mind.
4. Plan Ahead
Last-minute gift-buying, cleaning, or cooking can make holiday stress all the more intense. That's why a pro tip for holiday and Christmas gift stress relief is to plan ahead.
For example, if one is hosting a Christmas party, they can ease stress by cleaning the house throughout the week, instead of doing it all the morning of the event. People can also alleviate holiday anxiety by getting the bulk of their shopping done during Black Friday, instead of waiting until Christmas week.
5. Try CBD Tinctures, Gummies, and Topicals
While mindset shifts and healthy habits make a difference in holiday stress, sometimes people need in-the-moment tools to help themselves calm down — and cannabidiol (CBD) is one of those tools. 
CBD is a hemp-derived molecule that may produce a calming and soothing effect on mental well-being. To take CBD, one can use tinctures, gummies, or topical products. Whichever way a person chooses to use CBD, it's a worthwhile option for people looking to boost overall wellness and relieve stress during the holiday season. 
Muscle MX offers high-quality CBD products to help relieve stress this holiday season. For those dealing with significant levels of tension and worry, Muscle MX also offers gummies and oil drops specifically formulated for relaxation.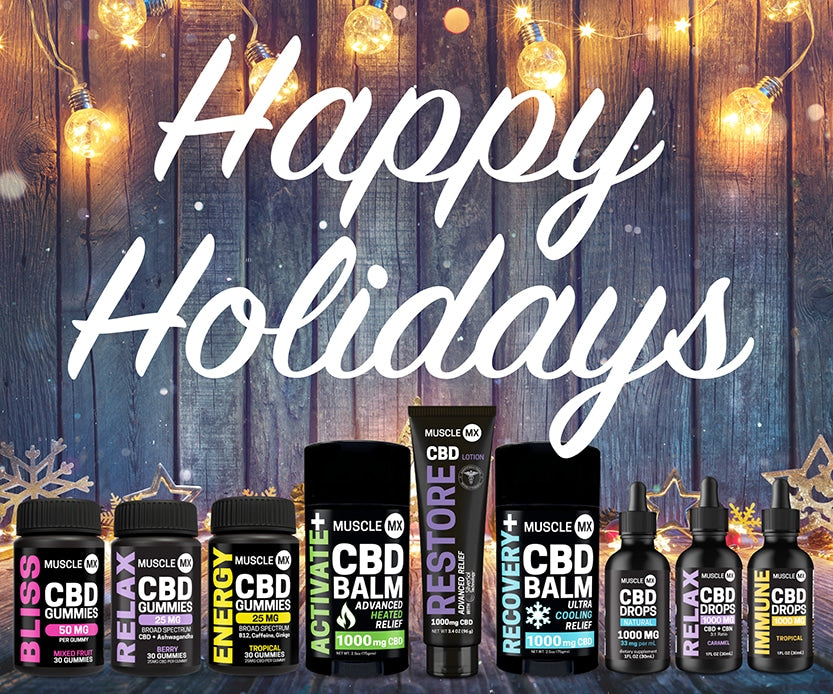 The Bottom Line on Relieving Holiday Stress
Managing commitments, practicing healthy habits, and using CBD can make a real difference in handling stress during the holidays. Not only do these strategies help with Christmas stress, but they can also promote better mental well-being throughout the rest of the year.
For those looking to try CBD, Muscle MX offers high-quality, lab-tested products to help reduce stress and promote a calm sense of wellness this holiday season. Check out our CBD products. 
Sources
American Psychological Association. (2006, December 12). Holiday Stress [Press release]. Retrieved from https://www.apa.org/news/press/releases/2006/12/holiday-stress.pdf
Louie, D., Brook, K., & Frates, E. (2016). The Laughter Prescription: A Tool for Lifestyle Medicine. American journal of lifestyle medicine, 10(4), 262–267. https://doi.org/10.1177/1559827614550279
Marcus by Goldman Sachs. (2020, October 12). Understanding the Financial Stress of the Holiday Season. Retrieved from https://www.marcus.com/us/en/media/blogs/understanding-the-financial-stress-of-the-holiday-season
Shannon, S., Lewis, N., Lee, H., & Hughes, S. (2019). Cannabidiol in Anxiety and Sleep: A Large Case Series. The Permanente journal, 23, 18–041. https://doi.org/10.7812/TPP/18-041